We all know that Governor Nyesom Wike of Rivers State is at war with his political party, the Peoples Democratic Party (PDP). But he is holding the short end of the stick. He has had cause to jibe at the party over matters of exclusion. The problem was basically his. But in order to add verve and grit to his protestations, he dragged four other governors along. Together, they constitute the G5 governors who have been giving PDP sleepless nights.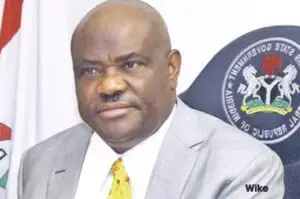 However, of this five, only Wike and Governor Samuel Ortom of Benue State are being heard. The rest have merely been tagging along. I have, as a matter of fact, had cause to say elsewhere that G5 does not really exist in actual terms. It is a creation of the media, which has come to take a life of its own following the unceasing vituperations of Wike against the leadership of the PDP. The fact of the matter is that only Wike and Ortom matter in the G5 calculation. The others, namely, Ifeanyi Ugwuanyi of Enugu State, Okezie Ikpeazu of Abia State and Seyi Makinde of Oyo State, are merely making up the number. They do not have the capacity to upturn the popular sentiments in their localities. In fact, they will be swimming against the tide, if they attempt to do that. Since these gentlemen are intelligent people, they are not likely to commit political harakiri for the sake of a nebulous G5.
This leaves us with Wike and Ortom. How far have these men gone with their push? Wike, the author and finisher of G5, has said that the group would make public its preferred presidential candidate soon. But the soon has been long in coming. Observers of the Nigerian polity never imagined that the announcement would linger up till now. With just one month to the presidential election, no pronouncement has been made about the group's choice. As I noted earlier, Makinde, Ugwuanyi and Ikpeazu are inconsequential in this calculation since their ethnic localities are already decided on where their votes will go. But the same cannot be said of Wike and Ortom. Interestingly, Ortom has already taken a stand. He has chosen Peter Obi of the Labour Party as his preferred presidential candidate. He has been unequivocal about this. He believes that Obi is the only one among the pack that can give Nigeria a new lease of life. Ortom is a man of principle and his words are respected. He is bold and fearless and this is what has put him on collision course with Fulani herdsmen operating in Benue State. Given his principled stand on issues, Ortom's position on Obi is taken to be well considered. Many have applauded him for his declarative position on the 2023 presidency.
This technically leaves us with one man in the G5 configuration. This one man is Wike. Yet he is still telling Nigerians one month to the election that G5 governors will soon unveil their presidential candidate. But we know that the other governors have moved on. G5, strictly speaking, has metamorphosed to G1. So, what does Wike want to do with the octopus on his hands?
The truth is that many who had sympathy for Wike on this matter have lost interest. They have noticed to their chagrin that Wike has lost steam. Why should the pronouncement of a preferred presidential candidate be an interminable process? When will this be? Will it come after the elections? Many are wondering. Only recently, one of Wike's loyalists in Rivers State confessed to being bored. He said he was tired of waiting for the unveiling of the anointed presidential candidate. He wants Wike to stop foot-dragging.
But who will Wike support in the presidential election? Observers believe that the choice is simple enough. What they do not understand is why the governor has chosen to mystify the issue. Since the man appears lost in his own game, let us help him to solve the puzzle.
Can Wike support Atiku Abubakar of PDP? That is most unlikely. He has no reason to. He has told the world in clear terms that PDP is not an option considering the fact that it is plotting to retain power in the North after eight years of a northerner. Besides, Wike is scandalized by the refusal of the party to respect its own internal rules. So far, the party has done nothing to remedy the situation and it is not likely to do anything. In fact, it can actually do nothing about some of Wike's demands. The presidential candidate is already from the region where the seating President comes from. This cannot be reversed at this stage. Can Wike live with it? It does not appear so.
Can Wike support Bola Tinubu of the All Progressives Congress (APC)? It will be strange if he does, considering where he (Wike) is coming from . Tinubu committed an all-time blunder when he accepted the same-faith ticket, which a section of the North gave him as a condition for their support. Tinubu knew that it was a poisoned chalice. But he decided to drink from it. The effrontery has since boomeranged. Wike, like all Nigerians of goodwill, has been up in arms against this. Can he eat his words? He is not likely to. Doing so will amount to political suicide. Wike is not ready to die yet, politically.
This leaves us with Obi among the top three contenders. Peter Obi should be the natural choice of Wike, considering that Atiku and Tinubu cannot make his list. But why is Wike pussyfooting over this? The answer to this question constitutes a dilemma to the Rivers State governor. Perhaps, Wike is looking back with mixed feelings. Those of them who muzzled Obi out of PDP are bemused at the present state of the presidential race. They never imagined that a Peter Obi outside the reign and protection of the PDP would be somebody. But somehow the man has taken Nigeria and the outside world by storm. The rejected block has become the cornerstone. I suspect that Wike remembers this.
Regardless of the harsh reality that this poses, Wike should get over it. He should brave the odds and save his supporters from an endless wait. Beyond his supporters, the larger Nigeria is waiting for what he said he would do for his preferred presidential candidate. He promised to campaign for the candidate across the country. When will this be? Since Wike is neither a seer nor a necromancer, it will be unnecessary to imagine that he is waiting for a revelation. He is not. He is just a bit confused. But I know that he can deal with that paralysis of will if he so wishes. But he has to. That is the only way to escape the harsh judgment of history.