Okutepa (SAN) Disagrees With Ozekhome (SAN), Says Aggrieved Persons Have Right To Opt Out Of NBA And Nobody Can Stop Them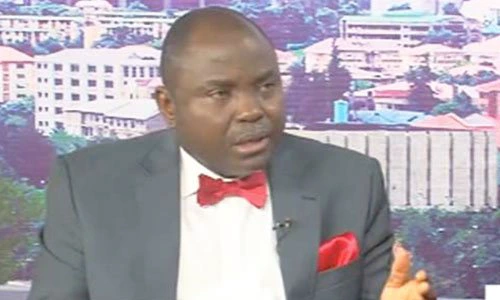 An eminent lawyer and Senior Advocate of Nigeria, Samuel Jibrin Okutepa, has reacted to the statement credited to Chief Mike Ozekhome (SAN) suggesting that formation of another Bar Association is dead on arrival.
Okutepa (SAN), in a statement made available to TheNigeriaLawyer (TNL), said he is surprised that such a view is coming from a lawyer he respects. He described Ozekhome's statement as "provocative" and the addition of "pepper" to an already "aggravated injury".
"When I read the views of some of my colleagues, and in particular the view of Chief Mike Ozekhome SAN, whom I love and respect, that formation of another Bar Association outside of NBA is dead on arrival, I feel terribly amazed. Such statements are not only provocative but are clearly not pacifying and reconciliatory.
"To make such statements in the face of recent events in NBA, is to add pepper to already aggravated injuries," Okutepa said
Though Okutepa admitted that membership of NBA is open to all lawyers, he contended however that is "idle" and "illogical" to say that no other Bar Association can be formed outside NBA. He added that by virtue of section 40 of the constitution, aggrieved members of NBA have the right to opt-out of NBA and no one can stop them.
He said "Let me make it clear that Nigerian Bar is one and indivisible Bar, unless there is an amendment to the legal Practitioners Act.
"All lawyers duly called to the Bar in Nigeria are members of Nigerian Bar and are solicitors and advocate of the Supreme Court of Nigeria.
There is no Regional Bar or State Bars as we have outside the shore of Nigeria.
"But having said that, it is idle with respect to contend that membership of NBA is statutory and compulsory or that another Association cannot be formed by lawyers called to the Nigerian Bar outside of NBA. Such position is not only illogical, it does not and cannot represent the position of law and Nigerian constitution
No Nigerian lawyer was called to the Nigerian Bar Association. NBA is not Nigerian Bar. It is an Association of members of the Bar. The right to freedom of Association is a fundamental right and enshrined in section 40 of Nigerian constitution 1999 as amended. Let nobody tells me that lawyers who feel terrible aggrieved about the ways and manner the affairs of NBA are being run cannot opt-out of the Association.
"They can and nobody can stop them. Let nobody say it is dead on arrival. Such statements are clearly inciting and provocative. You don't dare a person who has capacity to do a thing and say he or she should do it let us."
Okutepa pitched tent with the words of Chief Yomi Aliu, SAN, and Yusuf Ali, SAN, and described their statements as" conciliatory" and "pacifying". He said
"I think the views of Mallam Yusuf Ali SAN and Chief Yomi Aliu SAN sounded more conciliatory and pacifying. According to reports, Malam Yusuf Ali (SAN) told Saturday Tribune on Friday that aggrieved members of the NBA should imbibe the spirit of forgiveness and save the association from fragmentation.
'I want to appeal to our colleagues that an eye for an eye will make the whole world blind. The spirit of forgiveness is not just a religious issue, it permeates all human affairs. Two wrongs can never make a right. The solution does not lie in balkanizing the NBA.
'The Bar association commands respect because of the strength and size of its membership. Creating a parallel structure is not the solution. I just want to appeal. If we balkanise the NBA, each part becomes weaker. "We should allow reason to prevail. This is a matter that should be sorted out. We should not behave like Nigerian politicians who jump ship at the slightest disagreement to create new platforms. The result is a large number of weak political parties in the country,'. "
Okutepa said Yusuf Ali, SAN's view is "worth considered and exploited." adding that "Those who are aggrieved must not be provoked by statements that are inciting. We all read law and no one has a monopoly of knowledge to make statements that sound final."
He also quoted Chief Yomi Aliu, SAN, extensively. He said:
"Chief Yomi Aliu SAN was forthright in his views. Chief Yomi Aliu (SAN) said the dis-invitation of El-Rufai, in the first place, was an indication that the NBA had been taken over by politicians.
He said the withdrawal of the invitation to the governor was an unnecessary political move that has caused dissension among members. Chief Aliu said:
'The NBA has been hijacked by political lawyers to the disaffection of real practitioners of law. "Elections from 2016 or so vide e-voting had been manipulated to favour members of this class.
They often engage in class wars as could be seen from the dis-invitation of El-Rufai.
'One may ask what crime El-Rufai had committed that Obasanjo or Wike had not committed. Or what do we say of Iraqi warmonger, British ex-prime minister, Tony Blair?
'Before the northern lawyers' resolution, disenfranchised and cheated members of the Bar from the last election that produced Olumide Akpata had perfected schism of NBA and have over 10,000 lawyers across the country on its roll. "In fact, the last election had produced a Rehoboam and as such, a Jeroboam must arise to save the Bar from the biennial rape of majority decisions by the over-rich minority spending billions on professional elections as in the Israel of old.
'However, there is one militating issue of law calling for clarification. "Have I signed away my right to freedom of association by choosing law as a profession and as such, bound legs and feet to an association to wit NBA registered as a private organisation with the Corporate Affairs Commission or whether as a Nigerian I can take benefit of the freedom of association enshrined in the constitution? From Fawehinmi case in 1985, we had our freedom to freely associate and disassociate from NBA but over time, the Court of Appeal had held that anybody that read law is in eternal bondage to NBA.
'The NBA has failed woefully, neglected and refused to protect the interest of the majority of its members. It has refused to speak to power but rather it hobnobs with power, albeit in a beggar-like manner.
'The ship is filled with filth and any occupant not used to dirt is free to disembark and join or form another organisation that will protect his interest.
'Law Society of Nigeria was incorporated in 1994 as a fallout of the Port Harcourt conference imbroglio of 1992. Today, we have in the offing New Nigerian Bar Association, Nigerian Bar Society, and Northern lawyers should stop bid to real NBA —SANs Bar Society of Nigeria. Some members of the Board of Trustees that could save the NBA from imminent schism became partisan by congratulating the declared winner, even when a candidate had protested in the course of the election.
'They thereafter sat and decided the petition of the declared loser, thereby throwing away the avowed principle against bias.
'Certainly, this cannot be the Bar of our dream and nobody can put the rope on the neck of any lawyer to join by force. Let there be the choice as obtainable in other civilized climes or accountancy profession that has ICAN and ANAN.' "
Okutepa, SAN said the words of Chief Aliu, SAN cannot be dismissed with a wave of a hand. He urged the current leadership not to be misled with stands thst cannot divide the NBA
"For me the views of Chief Yomi Aliu SAN quoted above cannot be dismissed with the waves of hands. I share his view. The current leadership of NBA will do itself great good if it does not allow itself to be misled by stand that tends to promote the breakaway or divisions now too ripped to be plucked. There is a saying in my place that when a foolish man is holding gold in his hands on the man road, there is a wise man following him at the back. Those who have ears to hear should hear." Okutepa, SAN concluded
Flood Cuts Off Ganaja Village, As Motorists, Road Users Experience Untold Hardship
The people of Ganaja and motorists plying in to Kogi State from the Eastern flank would any moment from now be cut off from Lokoja.
Motorists this morning woke up noticing that the banks of the River Niger has faster was expected overflown it banks.
As at time of report, the experience can best be imagined when justapoxed with what happened in 2012 flowing the massive flooding of some states in Nigeria.
Currently the hardship faced by motorists and users of the Ganaja Lokoja road who went through hell this morning can better be imagined as more difficulties await them in the coming days.
Kogi Education Commissioner's Aide Describes Gov. Bello as a Detribalized Leader, Man of His Words.
Obafemi Adekunle Rufus, an aide to the Commissioner for Education, Science and Technology, has described Gov. Yahaya Bello as a detribalized Leader, who always stand by his words.
The Commissioner's aide justified his reasons for thanking Gov. Yahaya Bello in a post, says the Governor is what the state needs to move forward.
According to the statement, " In one of my post last week, I thanked and appreciated His Excellency Alhaji Yahaya Bello, the Executive Governor of Kogi State.
Though some people thought His Excellency gave me a car gift while another school of thought believe it was a political appointment that was given to me.
The fact however remains that I'm thanking His Excellency for remembering my erudite Boss, Hon. Wemi Jones, FCIB and for counting him so worthy to serve under his leadership as Commissioner for Education, Science and Technology.
This for me is enough reason in particular to be thankful and to appreciate His Excellency now and always.
I will continue to support his administration for the good works in the State and to assure him of my support and by extension that of the Hon. Commissioner for Education Science and Technology.
Governor Yahaya Bello is a man that has always stands by his words, and has remained a detribalized leader.
May the Good Lord continue to protect your Excellency and your family and may Kogi State continue to witness rapid development under your leadership."
KOGI PDP CONGRATULATE OBASEKI.
The People's Democratic Party , PDP in Kogi State has congratulated Governor Godwin Obaseki on his last Saturday's victory at the Governorship election in Edo state.
In a statement by the Publicity Secretary of the party in the state, Hon. Bode Ogunmola, the party described the victory as well deserved, adding that the Governor's victory has dealt a deadly blow on god – fatherism in Nigeria politics.
The statement further added that the election is a pointer to the fact that Nigerian electorate can no longer be taken for granted.
The party spoke person further applauded the Independent National Electorial Commission, INEC, for living up to its billing urging it to ensure that the Ondo Governorship election is also fair,free, transparent and credible.
However, while saluting the electorate in Edo state for rising above sentiment, the party admonished Obaseki to run an all inclusive government whereby stake holders of the party will not be sidelined.
The statement further observed that by the election in Edo state, it is apparent that democracy is beginning to take a firm root in the country and called on all stake holders in the country to spare no effort in entrenching a healthy democratic values in the country.
The statement further opined that democracy can only thrive in an atmosphere of free, transparent and credible election and not when people resort to violence to win election as witnessed in some states in the past.
According to the party spoke person, the judiciary will have less business in deciding electoral matters if politicians play in accordance with the rules and adhere to world best practices.
Bode Ogunmola
State Publicity Secretary
Kogi