Buhari mourns Attah Igala, Michael Oboni II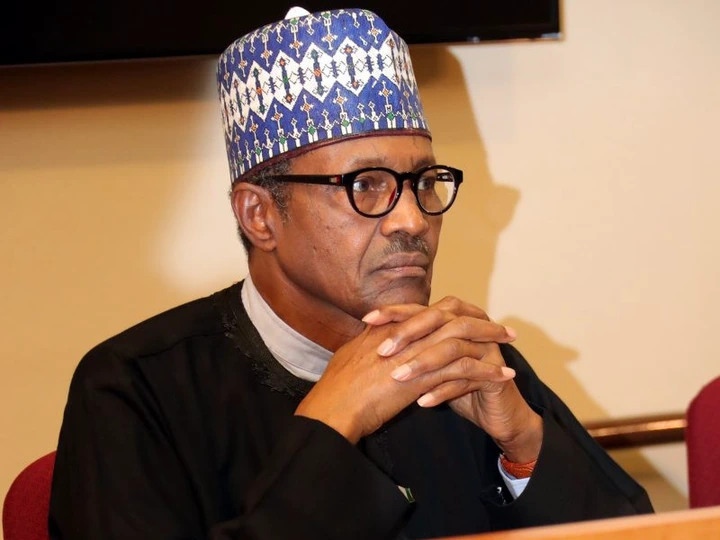 President Muhammadu Buhari has expressed profound commiserations with the family, friends and associates of His Royal Majesty, Attah Igala, Michael Idakwo Ameh Oboni II, over the transition of the Paramount Ruler of Igala Kingdom and President, Kogi State Council of Chiefs.
According to a statement by Garba Shehu Senior Special Assistant to the President (Media & Publicity) on Saturday, Buhari also condoled with the Kogi State Government, describing the late royal father as a "man of peace who devoted his life and reign to the unity and progress of not only his people, but also the state and country."
The President noted that the 27th Attah Igala will be greatly missed for his wise counsels and reputation for honesty, urging the people of his domain to sustain his achievements during his eight-year rule.
Buhari prayed that God will console the family of the revered foremost traditional ruler and all those who mourn him, and grant his soul eternal rest.
No tags for this post.
INAUGURATION SPEECH BY H.E GODWIN N. OBASEKI, GOVERNOR OF EDO STATE, ON THURSDAY, NOVEMBER 12, 2020 "CONSOLIDATING PROGRESS"
AEDC lauds Kogi govt, Light Up Movement for assistance in service delivery
The leadership of Kogi Region of Abuja Electricity Distribution Company (AEDC) has commended the Kogi State government and the leadership of Light Up Movement for their support and efforts to ease their operations.
The General Manager of the Region, Engr Yahaya Jere gave the commendation on Wednesday in Lokoja at an interactive session with the leadership of the Light Up Movement in Lokoja.
Engr Jere said the current administration in the state had tried in ensuring security of the company's infrastructure and payment of its electricity bills while assisting the body in its efforts to extend power to many parts of the state.
According to the General Manager, the company appreciates the commitment and show of love by the Light Up Movement to working closely with the AEDC, especially in an effort to improve drive in revenue collection.
He added that why he liked engaging with community based groups such as Light Up was because they understood the plight of consumers and are strong voices in advocating for smooth working relationship between the company and its customers.
He said he gained a lot from his open door policy and close relationship with the movement, hence his decision to continue in that direction.
Jere noted that his recent return to the Kogi region, a territory he is familiar with having served before, was a good one because he sees the area, especially Lokoja the state capital, as a second home.
He therefore promised to continue his policy, productive engagement and smooth interface that would benefit all stakeholders and appealed for continued support of the leadership of Light Up Movement.
While also assuring customers that there would be improved power supply, he appealed to the consumers to make it a point of duty to pay their bills on time to encourage the company to serve them better.
"Revenue generation is a function of effective service delivery. A satisfied customer would pay his bills without grumbling. We are therefore ready to give our people good services to ensure they too pay us without frowning or grumbling," Jere noted.
Dry Season: Fulani in Kwara urged to be vigilant of cattle breeders invasion
As dry season sets in, Fulani cattle farmers and cattle rearers in Kwara state have been urged to be vigilant and verify that cattle breeders from neighbouring states do not invade their communities to foment trouble.
Speaking during a sensitisation meeting with Fulani in Kwara state, in conjunction with Nigeria Security and Civil Defence Corps (NSCDC), Police, and DSS, the Serikin Fulani Kwara state, Alhaji Usman Adamu, said that the purpose of the meeting was to sensitise the Fulani in the state to be vigilant and see that bandits and all criminal elements did not come to reside in Kwara state.
"As we are hearing of what is happening in other states and bandits are being chased away from those states, we don't want them to stay in Kwara. Also, people that are doing bad things such as kidnapping, cattle rustling, and armed robbery do not come to the state.
"Also drying season is setting in, we need to be careful that cattle breeders, leaving other states from the North, East don't come and spoil Kwara for us because we don't know what many of them have done in the states that chase them away from where they are coming.
"So, all community heads, Seriki Fulani, should verify. Parents of the Fulanis should call children that are in habit of drinking, smoking and doing other bad things to order. Parents should warn them not to come and destroy Kwara for us or come and cause problem here.
"They should also warn people that are with cattle to monitor their cattle very well as drying season is setting in. Cattle rearers should not rear their cattles into farm lands. All these sensitization messages are necessary due to security reasons.
"We have vigilance group that are Fulanis that monitors and provide security in all the areas. They need more support from the government in order to do the security work very well. For instance, guns which some of them use to do the work are not of standard quality as those being handled by the bad elements. Government should support the Fulani vigilance group in order to perform their job very well.
"Parents of the Fulani children should be called to order. Those whose son go out with huge sum of money or buy expensive things, the parents should find out where the son got the money because he may be going out with kidnappers, or to do bad things or to do armed robbery, all the Fulanis should be vigilant. They should monitor the movement of their children, monitor the movement of their cattles in order not to cause trouble.
Also speaking, the Kwara State Commandant of the NSCDC, represented by the Head, Agro-ranger, Assistant Commandant Ibrahim A.O., cautioned that the Fulani should not take law into their hands in any crisis situation.
"They should report every matter to NSCDC office. They should not entertain any fear, if the cattles feed on farm lands and they are reported, if they are needed at the station they should not entertain any fear. They should come and explain things. They should also warn their children to desist from acts that are against the law", he said.
End.