Insecurity: Matawalle's audacity and other sundry issues
By Yusuf Idris
Zamfara State has been in the news for a very long time for a wrong reason. The once peaceful state assumed the notoriety of bandits' headquarters following activities of some unscrupulous elements that held it by the jugular and forcing it on its knees for years. It became a killing field and at some point, even competing with Borno State in terms of casualty figures from the daily bloodletting.
It was a disturbing daily scenario that has hitherto haunted Nigeria as a nation and dented its image across its shores until Bello Matawalle came into the scene and turned the table against the marauders.
The governor adopted a conflict resolution mechanism centered on dialogue which culminated in a series of peace deals with overwhelming outcomes that drew accolades across the country. The Matawalle approach to ending age long violence was the game changer which conflict experts had long advocated and craved.
Conflicts analysts believed the military option birthed more reactionaries and exacerbated the crisis rather than addressing it. They contended that in order prevent violent conflict from arising, societies need to be able to address underlying conditions that generate grievances and conflict, such as poverty, inequity, discrimination, and social exclusion. "Dialogue is needed to develop sustainable approaches to societal challenges and to build a culture of democracy. It's an essential tool for breaking down barriers and building connections across the divides in society," an expert had elucidated.
This is possibly the reason why the dialogue option by Matawalle had elicited commendations; and as expected and predicted, the peace deal has been achieving the desired outcome with hundreds of bandits surrendering arms and denouncing violence. The deal opened access to markets, farms, schools which shut down at the peak of the offensive which left behind trails of death and destruction.
"We applied the peace accord as a means of honest solution to the problem in Zamfara State, which has yielded tremendous results never expected in the last one year.
"However, our honesty and focus in the deal saw the near total drop in banditry attacks which allowed our roads, markets, schools and farms to be re-opened. In the same vein, nearly 1000 persons were willingly released by the ex-bandits and thousands of dangerous weapons willingly surrendered without payment of a single kobo" the governor had observed in one of his attractions with newsmen.
Understandably, many especially within the security circle, were surprised by the unprecedented success the move recorded in the lingering problem that have hitherto defied all solutions especially as similar efforts to get the marauding insurgents terrorizing communities across the North East to a roundtable have consistently failed in the past.
The peace deal also saw the release of many persons held captive by the bandits through negotiations from the areas of Dansadau, Kaura Namoda and Shinkafi and other areas, while discussion was ongoing between the contact committee and leaders of the bandits. The next step for the dialogue after securing the release of all the captives was the commencement of disarmament and collection of all rifles and other sophisticated weapons from the hands of both local militants and bandits.
However, the deal was not without its hiccup especially that some recalcitrant bandits backed down and resorted to mayhem and incurring the wrath of the governor which deployed the stick approach against them.
The carrot and stick approach has been impactful so much so that repentant bandits have joined the crusade in riding the state of criminal elements by working with the security agencies in tracking them and bringing them to justice. With the shifting of their base from Zamfara to Katsina, Sokoto, Niger and Kaduna states, it became imperative on the federal government to become more proactive by mobilizing army to set up Army Special Super Camp IV at Faskari, Katsina state, one of the local government areas sharing borders with Zamfara and a victim of several bandit attacks on innocent communities.
Beyond the bandit activities, the state government has also been reduced to the barest minimum, the raging conflict between farmers and herders through various initiatives. Key among the initiatives in this direction was the RUGA settlements drive which was intended to halt the migration of herders and their animals and avert their straying into farms and resultant conflict.
The gesture which was in tandem with the federal government's livestock development plan, has been variously commended as a welcome development by many in the state and beyond. From its concept, a settlement has 250 household capacity, hospital, police station, modern diary, sales outlets, grazing area spanning 5km, veterinary, Islamic and western education schools, improved grass that can go all year round and can even be sold among others. Each of the settlements will be constructed in each of the three senatorial districts of the state.
The Chief of Army Staff, Lt. Gen. Tukur Yusuf Buratai who was conducted round the RUGA Fulani settlement in Maradun local government area of the state recently was elated at the development, which described as a significant step in addressing the security challenges in the country. The Matawalle's success story could serve as a model in stemming violence conflicts which are fast becoming our bane as a country.
Yusuf Idris is the Director General Media, Public Enlightment and Communications to Governor Bello Matawalle.
How To Win A Woman's Heart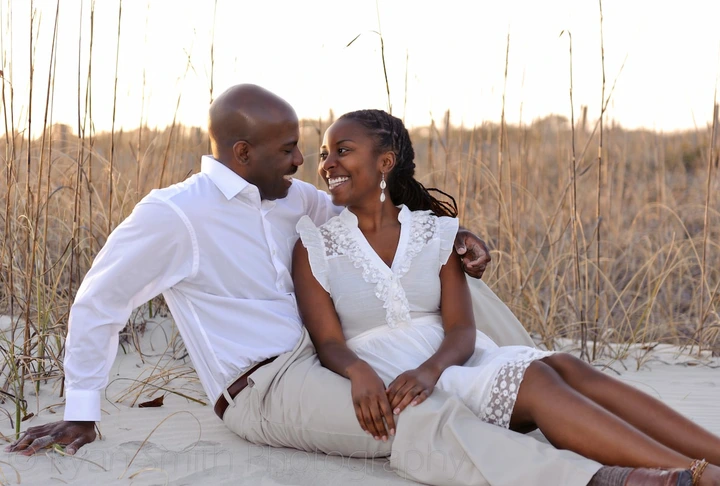 Women are hearts can be won through various means and can also be lost easy if not properly guarded. To Win the heart of a woman, you have to plan your strategy well, because it isn't just about winning the heart, but also keeping it. Below are some compulsory things you can do to ensure your woman's heart is won and kept.
1. Be Your Self: Don't claim or display what you are not. What ever show you put off about yourself to the outside world will be what attracts women to you. Putting on a false identity so as to get a woman is the worse thing that can be done if you are planning to have a long term and healthy relationship. Be real and the right woman will locate you.
2. Fix Your Self: You know your bad traits. No woman will be attractive to a man who continues to abuse her in out outside a relationship. What ever trait that you possess that can repel a woman, kindly fix it so as to be able to present yourself to get as a better version compared to other men out there.
3. Give Your Attention: Any woman you will love to win her heart, you must be present in time of her emotionally needs. Women loves men who are capable of meeting their emotional needs.
FINALLY, DON'T RUSH THINGS, LET TIME DO IT'S WORK. NEVER BE DESPERATE, ALWAY BE AN INDEPENDENT PERSON WHO WOMEN CAN BE DEPENDENT ON.
LIKE, COMMENT AND SHARE. FOLLOW ME ALSO FOR MORE UPDATES.
Content created and supplied by UNIONWITHGOD.Opera News is a free to use platform and the views and opinions expressed herein are solely those of the author and do not represent, reflect or express the views of Opera News. Any/all written content and images displayed are provided by the blogger/author, appear herein as submitted by the blogger/author and are unedited by Opera News. Opera News does not consent to nor does it condone the posting of any content that violates the rights (including the copyrights) of any third party, nor content that may malign, inter alia, any religion, ethnic group, organization, gender, company, or individual. Opera News furthermore does not condone the use of our platform for the purposes encouraging/endorsing hate speech, violation of human rights and/or utterances of a defamatory nature. If the content contained herein violates any of your rights, including those of copyright, and/or violates any the above mentioned factors, you are requested to immediately notify us using via the following email address operanews-external@opera.com and/or report the article using the available reporting functionality built into our Platform.
Read more>>
Be the first to comment
GOV. YAHAYA BELLO SUES FOR PEACEFUL CONDUCT IN ONGOING PROTESTS FOR POLICE REFORMS
BROADCAST BY HIS EXCELLENCY, GOVERNOR YAHAYA BELLO OF KOGI STATE SUING FOR PEACEFUL CONDUCT BY ALL IN THE ONGOING PROTESTS FOR POLICE REFORMS
Dear Nigerian Youths,
I was very proud to speak up last week in support of your protests to end police brutality in our country. No doubt the defunct Special Anti-Robbery Squad (SARS) had caused so much pain to so many Nigerians. It had allowed its image to become so battered by the crudeness of a percentage few in its ranks that urgent and total overhaul was needed. Your agitation was therefore justifiable and I did not hesitate to identify with you.
His Excellency, President Muhammadu Buhari also acceded to your requests and through the Inspector-General of Police totally disbanded the unit on Sunday, 11th October, 2020. Amongst other undertakings, Mr. President promised to set up a Forum for regular interface between the Public and the Police. In addition, he agreed to an inquiry into abuses against citizens by the disbanded unit, with a view to ensuring redress.
Mr. President further made it clear in a personal broadcast yesterday, Monday the 12th, that the demobilisation of SARS was only the first step in a broader spectrum of reforms designed to address wide-ranging questions of discipline and performance by the police and other law enforcement agencies. In Mr. President's words:
'The disbanding of SARS is only the first step in our commitment to extensive police reforms in order to ensure that the primary duty of the police and other law enforcement agencies remains the protection of lives and livelihood of our people.'
Dear Nigerian Youth, Mr President is someone I trust and believe in, please join me in trusting him as we are confident that he will push through the reform
I, and many people of goodwill who have stood with this cause are thus understandably pained by the needless and violent escalation we witnessed in several places yesterday. We are now concerned that what has been a generally peaceful citizens' protest is now threatening to dissolve into mindless attacks on government facilities and running battles with the Police.
Greatest and Ever Gallant Nigerian Youths, from what we saw yesterday, the ranks of genuine protesters have been infiltrated by criminal elements armed with dangerous weapons. Not only that but they are acting in pursuit of nefarious intents which have no nexus with your noble objectives.
I hold the opinion that you have won a battle, and I must now urge you not to lose the war. Protesters have a tangible and moral victory in the bag, and it is wisdom to safeguard it. It is now time to step back and explore other forms of dissent which will not provide crowd cover for persons and agenda which you obviously do not endorse. The nation's Leadership must also be accorded some time and breathing space to push through on promises of change.
I also urge the highest levels of professionalism and patience on our officers at this period. In the absence of clear and present threat to lives, there is almost no circumstance under which it is right to engage protesting citizens with extreme prejudice. It is neither morally justifiable nor an acceptable function of the policing duty.
To all and sundry, I urge that the events of yesterday must not be allowed to continue. It is time to let good sense and dialogue prevail all around.
Please be assured of my continued support, as well as my willingness to remain an ombudsman toward a peaceful and law-abiding resolution to matters arising in this regard.
Thank you and God bless.
YAHAYA BELLO
Governor of Kogi State
13 October, 2020.
Reasons why Emir Sanusi is still Wearing His Royal Clothes After his Dethronement [Photos]
The hausa/fulani traditions has a very unique way of ruling their people since before the colonial rule.
Their men and women are properly dressed in long dresses which is made by our local tailors.
Unlike other part of the country, the hausa/fulani are very talented and blessed with many hand made products before the arrival of the white people.
This comprises of people who engaged in moulding, tailoring, building E.T.C.
Our tailors have a specific type of clothes for the royal family and other wealthy people in the hausa/fulani kingdom.
This tradition has also specify people who are eligible to be appointed as emirs and other traditional titles the in land.
According to their tradition children inherent the title from their parents, you can only rule if you have the royal lineage but our Democratic system of government has ruined every thing about traditions.
A governor has the power to impeached or dethroned a traditional title holder meanwhile its is the duty of the kingmakers to do so.
They are entitled of appointing an emir and also dethroning him when he fails his people.
Its also stated that when an emir is dethroned he has to be banished from his kingdoms to avoid any misunderstanding between him and the new king.
In the hausa/fulani clan once an emir is always an emir he will be supported with his guards and will be allow to dress normally in his royal clothes.
This was the main reasons why dethroned emir sanusi is always pictured in his royal clothes despite his dethronement.
If we can recalled properly sanusi was dethroned by Governor abdullahi umar ganduje, the executive Governor of kano state.
This was followed by a live broadcast on the NTA TV Network which stated that sanusi has been breaking rules and regulations of kano state government.
Sanusi was forced to leave kano to a village in nassarawa state, he was later relocated to lagos state with his family.
Few days ago sanusi travelled to kaduna where he stays for some days to receive his supporters from across the Country.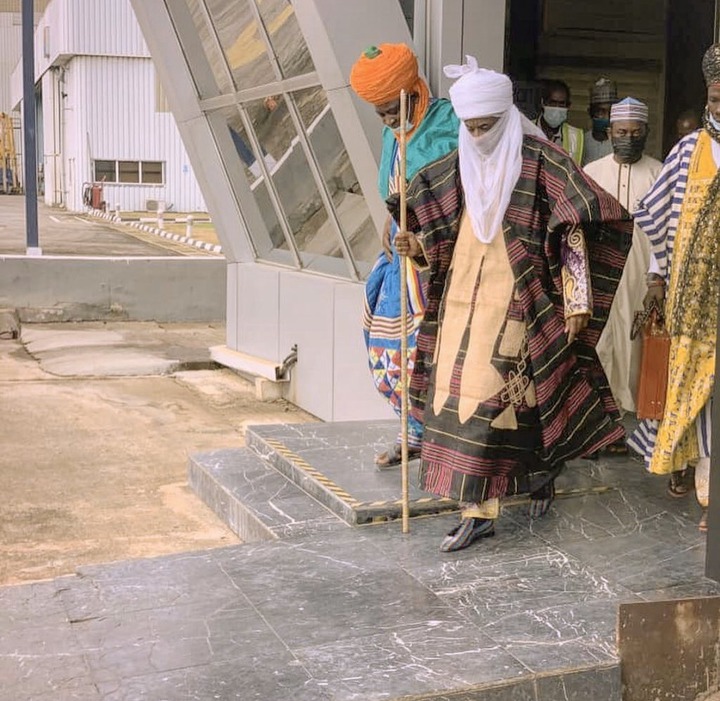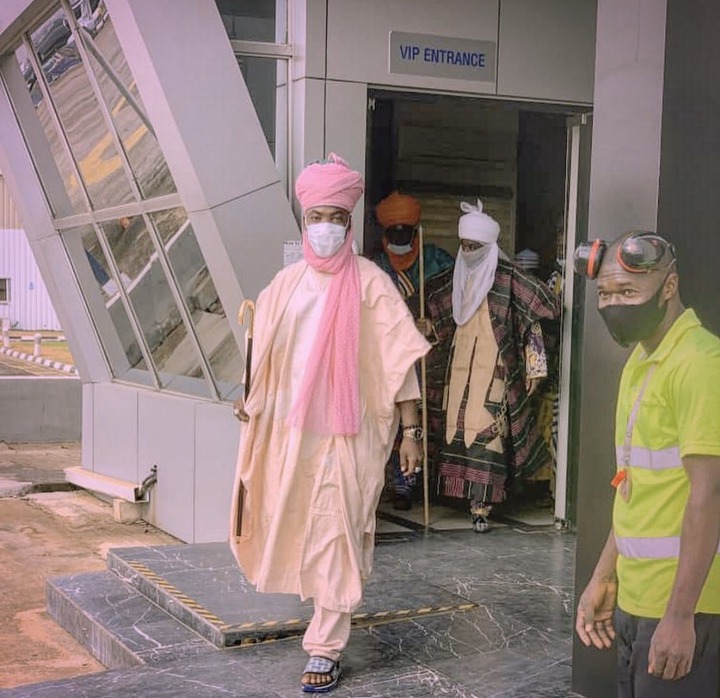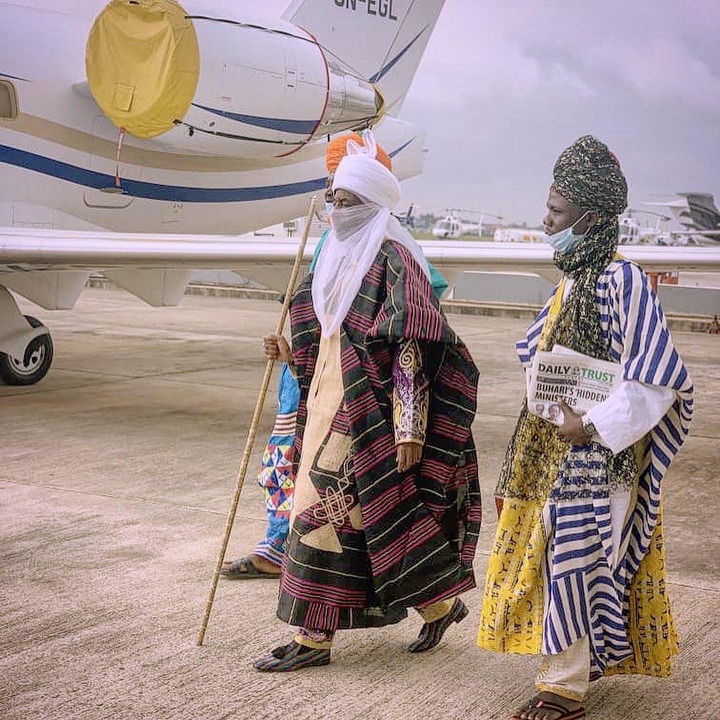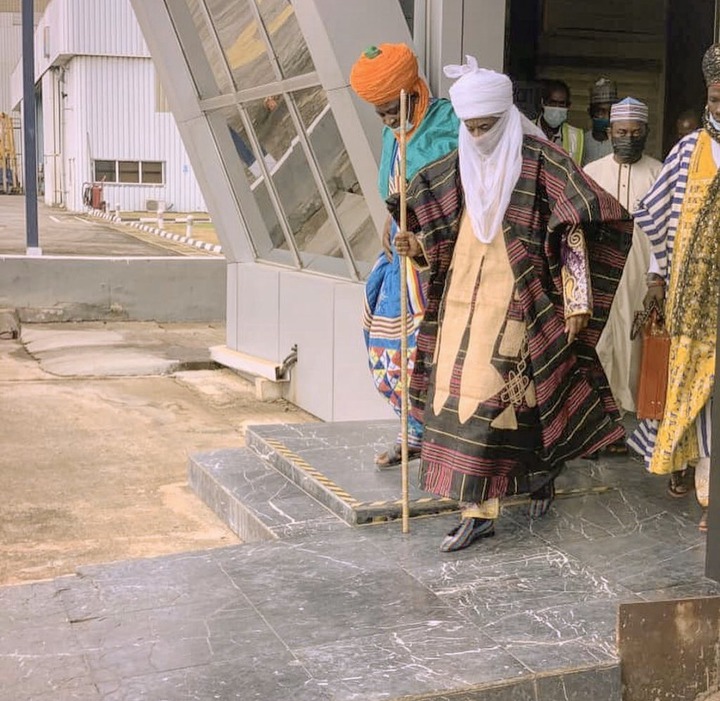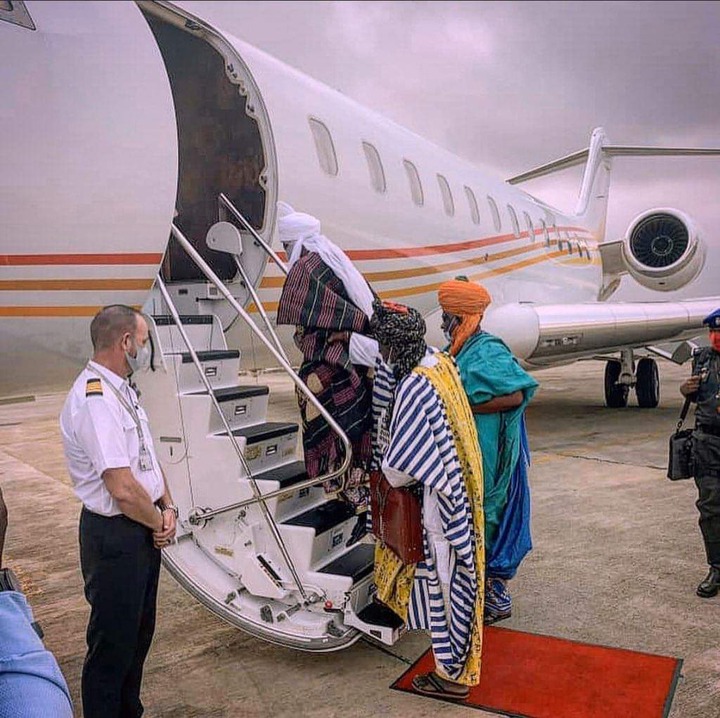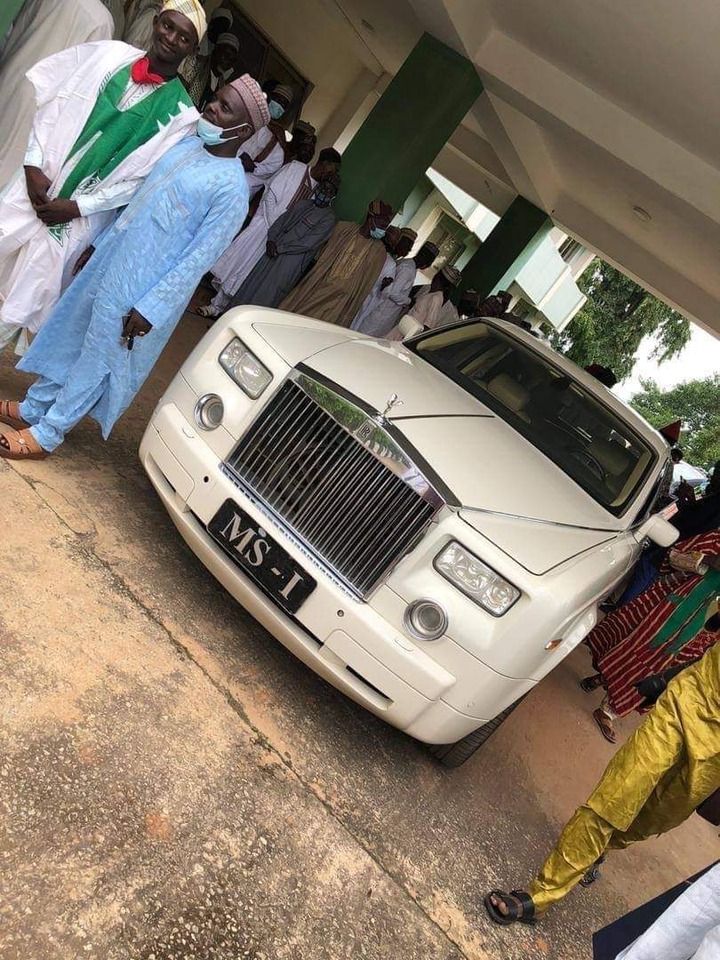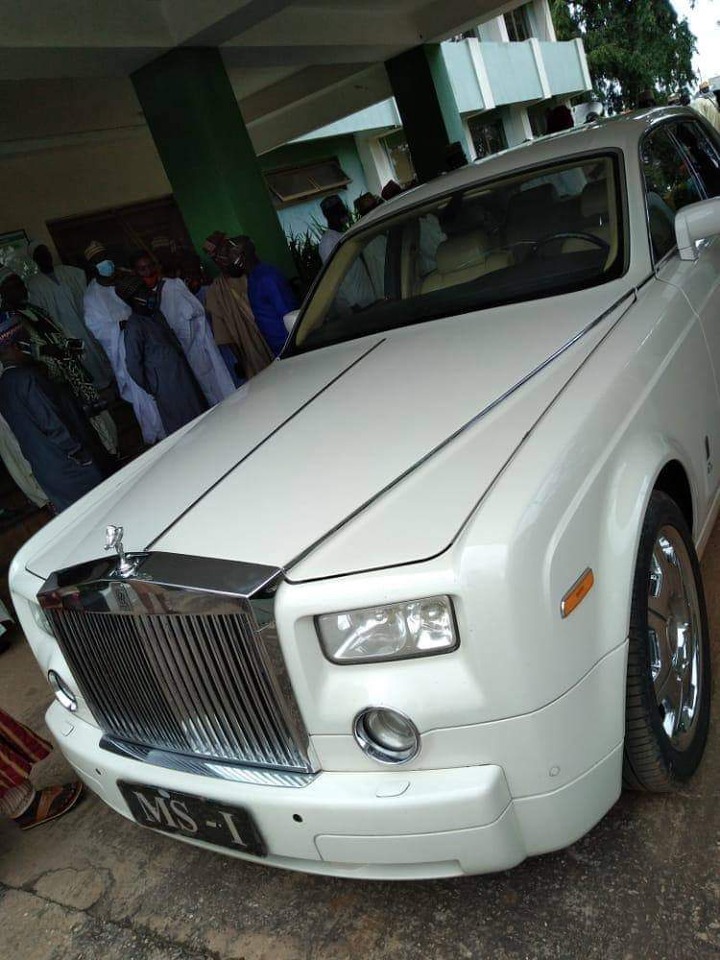 The views expressed in this article are the writer's, they do not reflect the views of Opera News.Read more>>